Body Cream Lotion Machine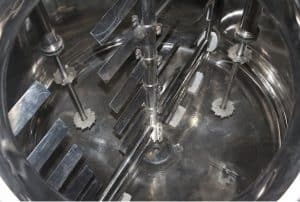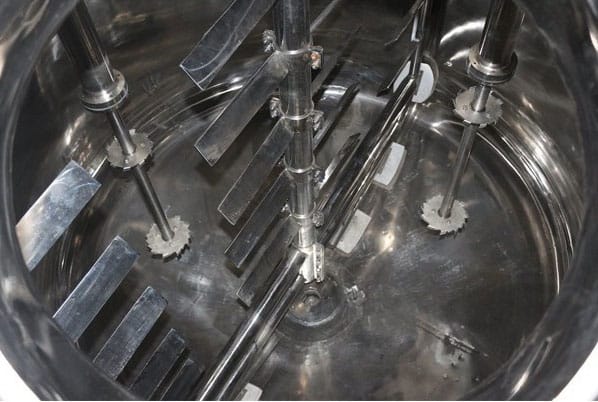 Process Flow:
oil and others ,heated and mixed in Liquid Pot and Oil Pot.
b. Materials ,Sucked into emulsifying pot by vacuum system
c. Stirred by both the center blade and side scraper. Then cut off in cut-off mixing unit,all in the Emulsifying Pot.
d. The materials are finally crushed into small pellets of 200um~2um.
e. The finished product , pumed out from Discharge Valve
Body Lotion Cream Making Machines
Application
It is mainly suitable for preparation of liquid detergents (such as cleanser essence, shampoo and shower cream etc.). Integrating blending, dispersing, heating and cooling etc. functions, the reacting machine is an ideal device for liquid preparation in various factories.
Characteristic
1. High speed disperser can powerfully mix and disperse viscous solid and liquid materials, and rapidly dissolve many indissoluble materials such as AES, AESA and LSA during the production of liquid washing products, and thus, saving energy consumption and shortening production period.
2. The main blending adopts stepless speed variation device, which can reduce the formation of bubbles when the temperature is low and the viscosity is high.
3. The gear pump circulating discharging device can accelerate the forming of products and realize rapid discharging.
Maintain
1. The machine is made of stainless steel, please be careful when cleaning surface of machine. Do not use sharp tool to scrape the surface of machine.
2. Could choose alcohol to clean blot of machine surface.
3. The cylinder has been filled with lube oil before leaving factory, so please don't take apart the cylinder to fill lube oil.
4. Hopper, stainless steel three-way valve and three-way conversion valve could take apart to clean. The seal ring should change in time.
Pharma Machinery:
Pharmaceutical Machinery Products
,
Ampoule Filling Machine
, Ampoule Inspection Machine,
Ampoule Labelling Machine
,
Ampoule Washing Machine
,
Automatic Tablet Coating Machine
, Ayurvedic Pills Machine, Ayurvedic Pills Making Machine, Bottle Inspection Machine, Capsule Polishing Machine, Capsule Printing Machine, Conta Blender, Dedusting Machine, Drum Blender, Ethylene Oxide Sterilizer, Fluid Bed Processor, Gel Filling Machine, Hand Operated Tablet Machine
Inline Mixers, Ipc Container, Iv Infusion Machine, Liquid Oral Manufacturing Plant, Manual Capsule Filling Machine, Mass Mixer, Mini Capsule Filling Machine
Multi Mill,
Octagonal Blender
, Ointment Filling Machine,
Ointment Manufacturing Plant
,
Ointment Mixer
,
Ointment Plant,
Oscillating Granulator,
Pharmaceutical Blender, Pharmaceutical Dryers, Pharmaceutical Equipment,
Pharmaceutical Filter Press
,
Pharmaceutical Filters
, Pharmaceutical Homogenizer,
Pharmaceutical Machinery Parts, Pharmaceutical Processing Equipment, Pharmacy Equipment,
Rapid Mixer Granulator
, Reactor Vessel, Semi Automatic Washing Machines
Shampoo Filling Machine,
Sigma Mixer
, Steam Distillation Unit, Sugar Syrup Making Machine, Syrup Filling Machine, Syrup Making Machine, Syrup Mixer
Tablet Coating Machines, Tablet Coating System, Tablet Deduster Machine,
V Blender, Vacuum Tray Dryer, Vial Filling Machine, Vial Labeling Machine, Vial Washing Machine, Vibro Sifter, Volumetric Filling Machine, Volumetric Liquid Filling Machine, rapid mixer Granulator. Hi