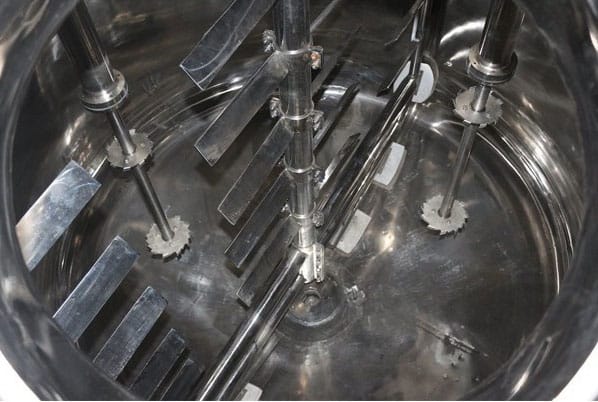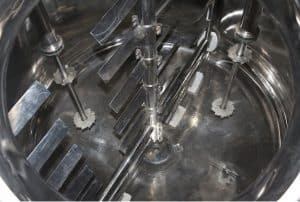 Twin Shaft Dispersers are considered as most versatile equipment for paint production. As the name suggests, the disperser range has been specifically designed to disperse, mix and homogenize products.
The process of dispersion is carried out by the centrally located shaft having Saw tooth impeller & running at high speed (~1000 rpm), and the slow speed Anchor is responsible for the mixing Action. Reckoned for trouble-free operations, the equipment made available in this range is extensively used for manufacturing plastic emulsions, solvent based Paints and Eco-friendly water based paints.
DESCRIPTION : Twin Shaft Disperser with inclined disperser/cowl disc.
Model Capacity
Standard Machines with following working capacities are available.
Liters : 10 Ltrs to 15000 Ltrs. However specific capacity to suit process requirement could be supplied as tailor made machine..
Mixing Vessels:
Style: Jacketed / Non Jacketed
Mounting Arrgt: Supported on Legs or Lug Support.
Shape: Conical or dished end bottom for easy and quick product discharge.
M.O.C wetted parts:
Steel / S. S. 304 / S.S. 316 or Any specific material requirement could be supplied on request.
Drive:
Both the mixing and disperser can be supplied with fixed speed or variable speed drive. The horse power shall be different for different models and your process requirement.
Mixing Arms and Disperser:
Mixing is provided with Anchor Strirrer with PTEF/ UMMWHDPE continuous scrapper for side and bottom.
These cater to varity of processes such as – Dry Blending, Wet Blending, Homogenizing, Dispersion, Grinding Particle size reducing etc.
TSD

ADVANTAGES:
This model is simple in assembly and hence cost effective economical.
TSD LIMITATION:
Dead volumes in the vessel are very high.
Small batch size less than 75% of rated capacity cannot be effectively processed.
Dispersion time is more.
Only cowl disc type disperser can be provided due to inclined mounting
The bearings need changing frequently for high speed shaft.
Powder charging can be done only when anchor stirrer is in working condition and the dispersion is in stationery condition.
Powder dusting on top of vessel is very high.
Features :
Optimum Process Selection of Mixer for Motor Power at given Tip Speed
Solid shafts for strength and ease of handling for HSD
Excellent Shaft machining in order to Control the Shaft run-outs, vibration and noise
Use of external bearing housing with back to back Tapper Roller bearing
Rugged and Robust mounting structure for strength and durability
Hydraulic Lifting System for HSD is Optionally available
Epoxy Paint finish as Standard
ABSTER TSD's are available as follows,
Motor KW Up to 250 KW
Shaft Length Up to 5000 mm
Impellers Saw Tooth (Cowl) Impellers up to Ø700 mm
MOC CS, SS304, SS316
Operating Volume Up to 10 KL
high speed disperser for paints