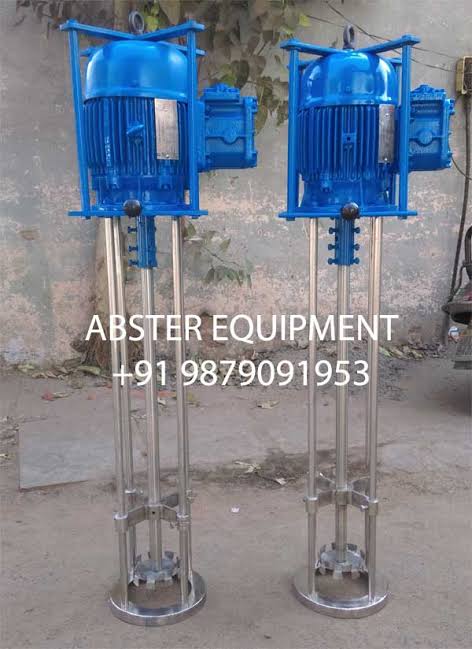 High speed Mixer
High speed Stirrer
Application:
The High speed Mixer is suitable for batch production, it is apply to all kind of liquid to pre-mix, disperse, color matching, etc.Features:
—hydraulic lifting, the frame can turn around flexible
—can match with cover, incase of material splashing or flying and volatilization of solvent based product during working.
—less air absorption during working
—paint mixer can blend and dissolve product quickly
—with inverter, various speed control, low noise and long-time continuous production
—stable performance, high efficiency
—stainless steel mixing tank with clamp or belt is optional
—motor can be explosion-proof, and the dispersing tank can be vacuum or seal
—paint mixer can be hydraulic lift or pneumatic lift
—Type: Floor type and platform type
—one machine can serve several tanks
Paint mixer Parameter:​
Model
Main Power (kw)
Rotation Speed (rpm)
Diameter of Disc (mm)
Stroke (mm)
Pump Power
(kw)
Weight
(kgs)
ABF-4
4
1440
100-200
700
0.75
700
ABF-7.5
7.5
1440
200-300
900
1.1
1000
ABF-11
11
1440
200-300
900
1.1
1000
ABF-15
15
1440
200-300
900
1.1
1000
ABF-18.5
18.5
1250
300-400
1200
2.2
1500
ABF-22
22
1250
300-400
1200
2.2
1500
ABF-37
37
1250
300-400
1200
2.2
1800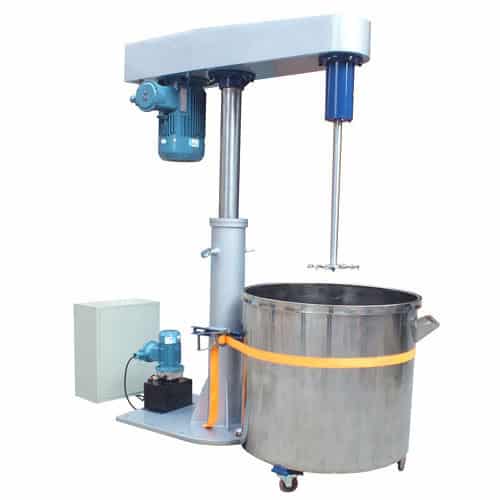 Product name: High Speed Disperser
Model:ABF HSD
Product introduction: 
Equipment for pre-mixing or mixing the solid/liquid or liquid/liquid raw materials. t used for as stirrer, blender, disperser and others.
Application:coating, paint, pigment, ink, dye, pesticide etc.
Product feature:
1.The machine could be meet high /low speed mixing for low or middle viscosity products
2. The machine has stable hydraulic lifting system for up and down smoothly.
3. The machine with frequency inverter to realize various speed control
4. Hydraulic tank:  industry-hydraulic tank could be realize oil-leakage free.
5. The contacting parts is made of SUS304 /SS316L (customized)
6. Lifting system:  hydrauilc /pneumatic / manual .
7. Frame of column is made of Q235-A.
8. Lifting height could be adjust according to customer requirements.
9. The machine is applicable for premixing or mixing chemical /industry materials.
Type
HHSD
Power
kw
 Speed
rpm
Batch volume
L
Lifting
mm
height
mm
The axis distance
mm
length
mm
Weight
kg
HHSD-1.5/2.2
1.1/2.2
1450
100
500
1400
350
940
120
HHSD-4/5.5
4.0/5.5
1450
200
800
1700
600
1300
400
HHSD-7.5
7.5
1450
300
900
1750
900
1800
550
HHSD-11
11
1450
400
900
1750
900
1800
800
HHSD-15
15
1450
500
1000
1750
900
1800
900
HHSD-18.5
18.5
1450
800
1200
2200
1100
2100
1200
HHSD-22
22
1450
800
1200
2200
1100
2100
1300