Z Blade Sigma Mixer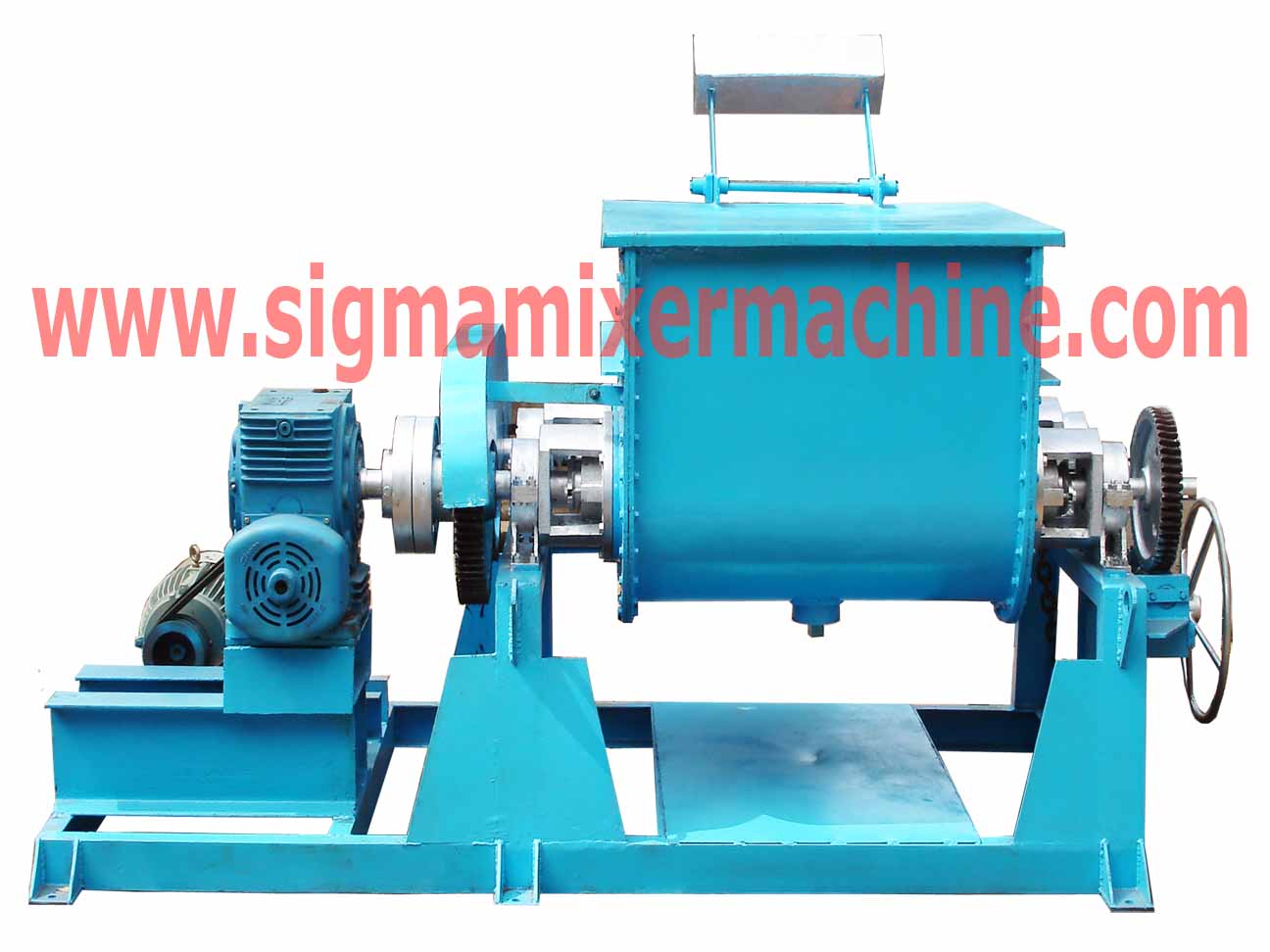 Abster equipment introduces the modern and heavy duty, strong built z blade sigma mixer to produce uniform mixing and kneading heavier viscosity materials. The Sigma mixture is suitable for many applications like mixing, kneading, Grinding, dispersion, drying etc. The sigma mixer have application to produce highly viscous materials like different kinds of Chemical, Dyes & Pigments, Paint, Polymers Plastic, Putties, Plastic, Pharmaceuticals, Printing ink, stiff pastes, adhesives, polyester Compounds, flush colors, brake lining compounds, resign, soap, PVC coatings, Rubber compounds, Confectionery, Magnetic Tape Coatings, Ceramic, Carbon Black, doughs,, Food Products, Fiber Glass, Grease, Lead Storage Battery, linseed oil putty, glaze putty, Soap & Detergent etc.
Standard Features:
Fabricated in stainless steel
Support provided by fully welded box section frames
Split gland housings for easy maintenance
Hydraulic tilt or discharge
Optional Features:
Bottom outlet discharge
Extruder discharge
Integrated rigid lid for automation
Heating / Cooling jacket
Hardened steels, wear blades for abrasive mixes
Heavy duty models for stiffer products
Vacuum models for drying or de-aerating
ATEX certified models
Liquid additions
Laboratory models (refer to Lab Z)
Variable speed drives
20 litre to 1800 litre working volume (Mz20 to MZ1800)
Z Blade mixers are used in a wide range of industries and applications, including:
Abrasives, Adhesives, Biscuit dough, Brake linings, Ceramics, Chewing Gum, Chewing/bubblegum, Confectionery, Detergents, Energetics, Energetics materials, Fibreglass dough, Food, General mixing, Mastics, Metal powders, Pharmaceuticals, Roof tiles , Rubber solutions, Sealants, Silicone rubber, Soaps, Spices, Sugar pasting, Sugars, Welding materials.
Please contact us  and we will assist you in developing the right solution for you.
Sigma Mixer Operation
Sigma mixer, the tangential action of mixing and kneading is thoroughly obtained by 'Z' (SIGMA) shaped kneading blades, which rotates very accurately at different speed towards each other causing product to be transferred from blade to blade. Discharge of the mixed product is achieved by tilting the container or through the valves at the bottom or by means of an extrusion screw below the container if provided
Sigma Mixer Options
GMP / Non GMP / models.
Discharge in sigma mixers is done by tilting container / bottom sliding valves
/ bottom gates / flush bottom gate valves.
Tilting in sigma mixers is done by hand liver / hand wheel with lead screw /
electrical arrangements / hydraulic systems.
Lifting of lead either manually, with help of counter weights or hydraulically.
'Z' Type Spiral blade / Naben / double naben blades to circulate hot / cold
water in cases of heavy masses.
Jacketed shell for heating or cooling by steam, oil, water etc. with fiber
glass insulation over the jacket.
Spray system for liquid addition / gas purge.
Flame proof / Non-flame proof electrical controls.
Salient Features
Sigma Mixer is a Batch type Mixer
In sigma mixer, Mixing Trough and Blades are fabricated from mild steel, stainless steel 304 and 316 grade.
Blades of sigma mixers are designed to obtain thorough mixing of high viscosity materials.
Sigma Mixers Blades are machined to keep minimum equal gap between through walls and blades.
Sigma mixers have fixed with Heavy-duty gears to sustaion of load of Kneading.
Shaft sealing into the stuffing boxes is provided by Teflon Chevron Rings / PTFE breaded gland rope to prevent leaking from blade ends.
Safety Guards and Grills are provided for maximum safety in sigma mixers.
Lab Sigma Mixer- Z Blade
Uniform Kneading & Mixing Process
Application & Process :
The Abster Equipment LAB Series – Lab Scale Sigma Mixer is used for mixing and kneading for mixing, kneading of highly viscous mass, sticky and dough like products, Mixing of pastes, rubber, and heavy plastic masses, applications in Food, Rubber, Pharmaceutical, Chemical and agro industries, Dry powder to wet phase mixing. This mixer is most suitable for highly viscous material and dough like masses.
The Lab sigma kneader is a twin basin kneading machine with two horizontally arranged kneading blades, which are deeply geared into one another and strip themselves reciprocally. Each blade moves the material in opposite direction thereby providing excellent cross mixing of all raw materials. The blades pass the trough walls and each other at close clearances resulting in good mixing. The close clearance produces a shearing and tearing action that is beneficial to the size reduction of solids. Selection of appropriate blade shape and speeds result in excellent mixing.
---
New Design Features :
For Mixing, Blending and kneading of high Viscosity Materials, with a combined action of Bulk Movement, Kneading, stretching folding, dividing and Recombining.
Available in Capacity from 1 Kg to 5 Kg Industrial Productions.
Designed as per cGMP – Current Good Manufacturing Practices & Non GMP STANDARD Model.
Contact parts in AISI 316, AISI 304 or MS as desired by customer.
There are different types of blades: Sigma-"Z" blade, Spiral blade, and Naben blade.
Selection of appropriate blade shape and speeds result in excellent mixing.
Safety feature : Over Load protection & Enclosed drive
Option for Hydraulic lifting unloading & spraying system.