Drum Flaker Dryer
Application of Drum Flaker : Drum Flaker, drum flaker dryer Products, Drum Flaker Suppliers and Manufacturers
Flaker Drum Dryer
Drum flakers (also known as cooling drums) are used for solidifying molten material. After processing on flakers, the material forms films or easily handled flakes and is further processed or packed into containers for transport. A great advantage of flakers is that they offer a continuous process.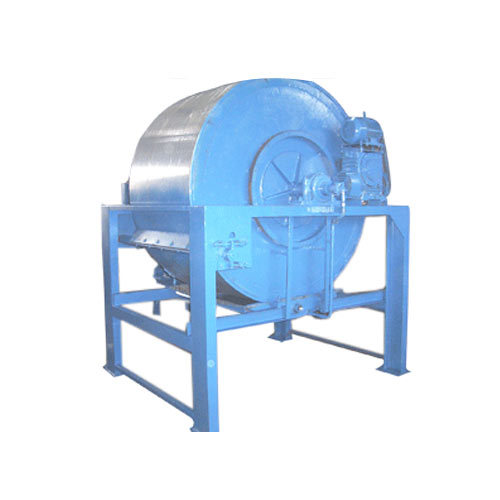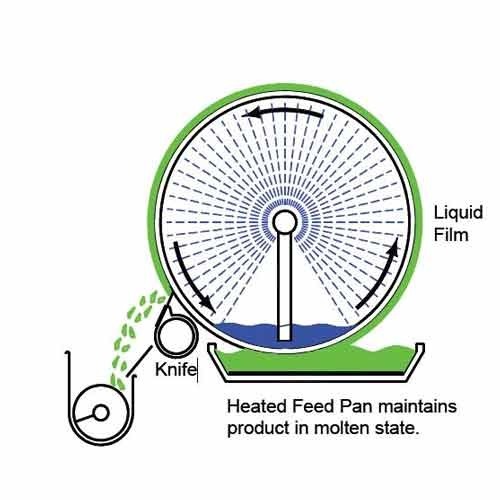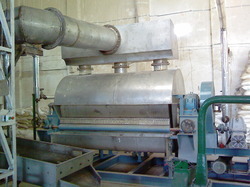 SYSTEM : The steam heated Drum Dryer is noted for its high thermal efficiency in the removal of water and/or solvents from a wide range of solutions, slurries and suspensions. The ratio of steam consumption to evaporation can be as low as 1.2:1 and seldom more than 1.5:1
CONSTRUCTION MAIN FRAMES : Heavy duty cast iron or fabricated carbon steel construction.
DRYING DRUMS : High engineering hard chrome plate or hard cast iron, stainless steel or custom alloys.
KNIFE BARS : Cast iron or stainless steel clad cast iron with pneumatic operation as standard. (Oscillating knife mechanisms optional).
KNIVES : Sheffield steel, special stainless steel, Teflon, or stainless steel blade holders tipped with beryllium bronze for custom applications.
DAM PLATES : Provided where necessary, faced with Teflon or similar.
DRUM DRIVES : Fixed or variable speed.
Safety gear : (Twin Drum) Spring loaded.
ENCLOSURES : Vapor extraction hood, total, dust tight or nitrogen atmosphere capable.
VACUUM CASING : Plain or steam jacketed.
STANDARD AUXILIARIES : Side and cross conveyors, traversing feed gear, automatic feed control, product brakers.
Applications : Milk products, baby foods, breakfast cereals, fruit and vegetable pulps, starches, spent yeast, chemicals, biologicals.
FLAKERS ARE USED FOR FOLLOWING MATERIAL
| | | |
| --- | --- | --- |
| 1. Stearic Acid | 7. Maleic Anhydride | 13. Edible Oils (Hydrogenated) |
| 2. Stearamide | 8. Waxes | 14. Fatty Acids |
| 3. Ethylene BIS | 9. Napthalene | 15. Fatty Alchohols |
| 4. Benzoic Acid | 10. Mono Chloro acetic Acid | 16. Maleic Acid |
| 5. B-napthol | 11. Anthracene | 17. Para id-chloro benzene |
| 6. Caustic Soda | 12. Calcium Stearate | 18. Phtalic Anhydride |
OUT FIT :
The Flaker/Drum Dryer will be complete with SS Tray, SS Hoper, M.S. Hood, A Belt-Guard, Chain Guard, Heavy Base Plate with Geared Motor & variable speed arrangement.
MODEL

DRUM
DIA X LENGTH

TOTAL DRUM AREA

Sq. M.

OUT PUT OF

Kg/Hr

HP OF MOTOR

ABF-1A

400 X 1000

1.25 M2

60 Kg.

1

ABF-1

635 X 1000

2 M2

90 Kg.

1.5

ABF-2

940 X 1250

3.75 M2

175 Kg.

2

ABF-3

940 X 1500

4.5 M2

200 Kg.

3

ABF-4

940 X 2000

6 M2

275 Kg.

5

ABF-5

1270 X 2000

8 M2

375 Kg.

7.5

ABF-6

1270 X 2500

10 M2

500 Kg.

10
Working Principle
The hot material is applied to the cooling drum by direct immersion into a trough, or indirect immersion using doctor/applicator rolls. The molten liquid is cooled on the cooling drum and after a partial revolution; the cooled and solidified product is removed by a scraper in the form of flakes or film. The cooling drum of the flaker is specially designed to provide an even cooling effect by having uniform and effective internal distribution. As a result, both high output and homogeneity of the product are possible.
Salient Features
Variable speed drive arrangement for adjustment of the drum speed for optimum performance
Suitable for a wide range of chemical and pharmaceutical products
Contact parts can be stainless steel, carbon steel, and hard chrome plated depending
on material requirements
Accessories include hood, breaker, flake conveyor, applicator roller etc
Drum Flaker manufacturers, Drum Flaker suppliers, Drum Flaker producers, Drum Flaker exporters, Drum Flaker
Our other Product for chemical processing: Double Cone Blender, Sigma Mixer