Horizontal Cylindrical Autoclave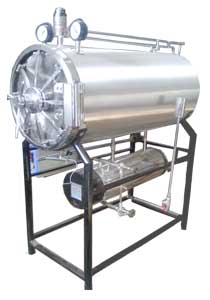 Capacity : 22 L, 40 L, 50 L, 78 L, 98 L, 187 L
Electrical Supply : 230V AC, 50/60Hz Or 430/440 Volts
Phase: 3
Heater Load : 6.0 KW, 3.0 KW, 4.0 KW, 8.0 KW, 2.0 KW
Operating Pressure : From 15 Psi To 20 Psi
Pressure Gauge : 0-2.1 Kgf / Cm square(30 Psi)
MOC Pressure Vessel : Stainless Steel
MOC Middle Wall : Stainless Steel
MOC External Wall : Stainless Steel
Horizontal Cylindrical Autoclave features triple walled construction support and comes mounted on mild steel/stainless steel based tubular stands.
Further, the construction of inner chamber, middle wall and outer wall using stainless steel metal also provides for optimum functionality support. The latest technology incorporated pressure gauge, safety valve, as well as steam release valve, also provides for achieving optimum functional interface.
Features :
System comprising of chamber and jacket support
Chamber constructed using thick stainless steel sheet that helps in minimizing heat losses
Complete shell mounted on sturdy MS tubular stand support
Boiler coming fitted with auto pressure control device that supports maintenance of chamber pressure through cutting on/off electric supply to heaters
Doors made available in thick stainless steel plate and come with safety mechanism that automatically locks in event of chamber being under pressure
Functioning of system also supported by auto pressure control device, timer switch, alarm switch, water inlet/outlet valve, water level indicator, pressure gauge and jacket safety valve
Pressure vessel, middle walls, external walls, boiler, lid and tubular stand made available in stainless steel finish
Applications :
Finding usage for various chemical reactions in pharma & chemical industry
For pre-disposal treatment as well as sterilization of waste material
Used in hospitals for sterilizing instruments, glassware and plastic ware
Used for laboratory sterilization
ABF research and development efforts resulted in good quality products with excellent and precise process control as per needs of customer and their level of satisfaction.
are available in different models and for the suitable applications.
Vertical sterilizers (Microbiology lab) with swing doors.
Horizontal cylindrical Autoclave sterilizers (Microbiology lab) with conventional radial arm.
Horizontal rectangular sterilizers with conventional radial arm and also with sliding doors.
Bung processor cum sterilizer.
All models are available with SINGLE/DOUBLE door design except vertical which is available only with single door.
Special Features of Horizontal Cylindrical autoclave:
Specially designed chamber to ensure complete condensate removal.
Specially designed connector/nozzles sanitary type to avoid any chances of contamination.
Special welding technique to avoid welding depressions inside the chamber.
Excellent chamber finish with crevice free construction to avoid chances of contamination.
Uniform distribution of steam to achieve uniform temperature + 0.1.5oC
Sterile air filter (0.01micron) for vacuum break is provided on sterile side.
Automatic control with PLC based Sterilizer control panel.