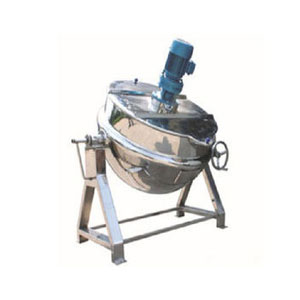 Steam Jacket Kettle
Stainless Steel Double steam jacketed kettle series strictly tally with
GMP General principles'(1998 Revised Edition),
and is designed ,manufactured and accepted according to the requirements
of GB150-98 Steel Pressure Vessel
Steam jacket kettle Detail Description
Steam jacket Kettle to be designed, manufactured and inspected in accordance with the pressure vessel standard and the steel welded atmospheric pressure vessel standard, strictly meet to GMP certificate requirements.
Steam kettle have double layers structure, jacket use steam or heat conduction oil as a heating medium, Steam kettle can be installed flange discharge, material can be directly discharging after cooking, convenient operation;kettle body adopts circular arc transition, no dead corner, easy to cleaning; body mirror polishing processing so as to meet the requirements of health standard.
Jacket kettle can be fixed structure or tiltable structure, also can add mixing device and emulsification device according to customer requirements.
Tank Optional Configuration
Jacketed Steam Kettle can configure thermometer(Digital display or Dial type), pressure gauge, sight glasses, sanitary manhole, liquid in-outlet, CIP cleaning ball and so on, also can configure as customers' requirement.
Application
• Used for the processing of various kinds of food, specially used in large restaurant or dining room to boil soup, cook, stew, boil congee, etc.
• Used in liquid configuration, decoction and concentration in pharmaceutical, food, chemical industry and light industry.
Feature
• Jacketed kettle have large heating area, high thermal efficiency, uniform heating, short liquid boiling time, heating temperature easy to control, can improve quality, shorten the time, good equipment to improve working conditions on food processing.
• Volume:50L~500L and multiple specification, also can design and manufacture according to customers' requirement.
• The connection adopts Tri-clamp, the tanks' inner use 304 or 316L. The inner surface mirror polishing, outer surface can polishing, wire drawing and sandblasting according to customers' requirement.
Design Parameter
Design pressure

ATM~0.8MPa

Design temperature.

According to customers' requirement(0℃~250℃)
Material
| | |
| --- | --- |
| Kettle Liner | 304、316L |
| Kettle outer layer | 304 |
| Feet | 304 |
Surface Finish
Finish Type

Mechanical polishing, electrolytic polishing,sand blasting, pickling

Polishing precision

Inner surface Ra≤0.4μm
Outer surface Ra≤0.6μm
Connection
| | |
| --- | --- |
| In-outlet | Tri-clamp, Flange |
Structure
Vertical Jacketed Steam Kettle Stirring lift tiltable Jacketed Steam Kettle
Jacketed Steam Kettle, Jacketed Steam Kettle
Normal Model And Main Technical Parameters
Parameter

Model

Effective volume:L

Evaporation:Kg/h(Rinsing)

Heat-transfer area:m2

Steam consumption:Kg/h

Kettle

Diameter:mm

Kettle depth:mm

Agitator

Power:Kw

RPM:r/min

Emulsification

Power:Kw

Emulsifying speed

Structure

The above-mentioned data is the standard for vertical Jacketed Steam Kettle (Emulsifying stirring type), the capacity, jacket operate pressure, power and agitator structure can be customized according to customers' requirements.