Tablet Coating Pan, Tablet Coating Machine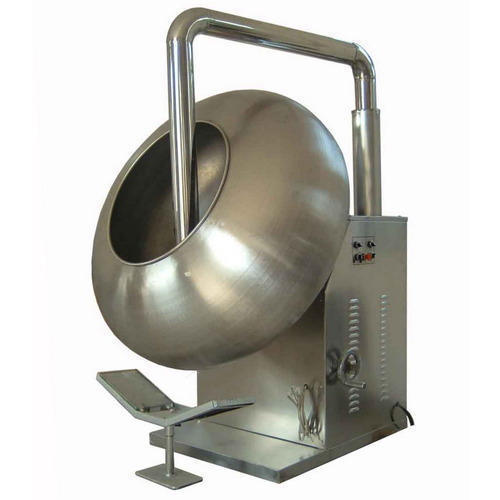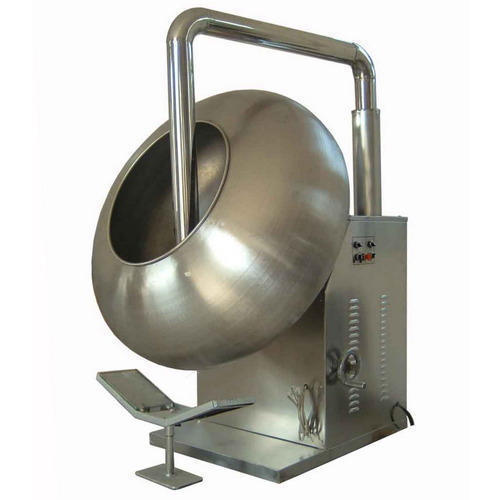 Tablet coating Pan Description
Tablet Coating Pan : SS 304 semi ellipsoidal size pan with a circular mouth for charging & discharging of tablets Pan mounted at an inclination of 45 degrees to the horizontal.
Drive Assembly : Consists of a suitable HP 3 Phase, 440 V, 1440 RPM TEFC motor with suitable worm reduction gear box and cone pulley arrangement to give three speed output.
Hot Air Blower : Tablet Coating Pan or say Tablet Coating Machine is provided with a hot air blower consisting of suitable HP 3 Phase 440 V, 2880 RPM TEFC electric motor & centrifugal blower with damper delivering required CFM. The air is heated by means of suitable electric heater to give air at 30 to 90 degrees Heater with thermostat control and flexible hose pipe.
Control Panel : Tablet Coating Machine provided with suitable control panel with starters and push button to actuate the drive and for blower The circuits consists of MCCBs, relays and contractors in series Ample overload protection is provided by the MCCB and the relay Wires coming out of the connections are numbered for easy recognition.
Mounting : The motor and gear box is mounted inside sturdy MS frame and the pan mounted on the Gearing housing fitted in the stand. Blower mounted by the side of the stand or placed in remote location if required.
Finish : All joints argon Arc welded and all SS Parts polished to suitable finished required of pharmaceutical equipment MS parts painted to smooth finish.
Tablet Coating Pan Options Available :
Unit with FLP motors and FLP push button station but non FLP panel to be mounted outside FLP area
Unit in SS 316 quality contact parts
Unit with SS304 cladding / for GMP model and
Steam heating for blower.
Tablet coating pan Specification
| Model | ABFCP-24′ | ABFCP-36′ | ABFCP-48′ | ABFCP-60′ | ABFCP-72′ |
| --- | --- | --- | --- | --- | --- |
| Loading capacity | 25 | 60 -80 | 100-120 | 150-200 | 250-250 |
| Drive Motor HP 3 PH 50 C S 415 V AC line | 0.50 | 1.00 | 2.00 | 5.00 | 7.5 |
| RPM of Pan (empty) | 24 / 72 | 12 / 36 | 10 / 30 | 8 / 24 | 5/10 |
| Hot air blower motor HP 3 PH 50 C/S 415 V AC line | 0.25 | 0.50 | 1.00 | 1.00 | 1.00 |
| Blower capacity Maximum CFM | 100 | 200 | 500 | 750 | 750 |
| Heater K.W | 1.5 K.W | 3 K.W | 4.5 K.W | 6 K.W | 6.K.W |
Our Other Pharmaceutical tablet manufacturing machinery:
Body cream lotion manufacturing machine