Specification of the Double Layer Tiltable Jacket Kettle: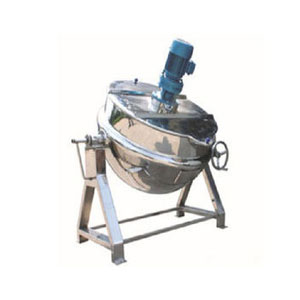 | | |
| --- | --- |
| Name: stainless steel Jacket Kettle | Model No.: ABF-JC01 |
| Weight: 170-485kg | Type: Cooking kettle, heating kettle |
| Volume: 50L-1000L | OEM: Available |
| Working pressure in jacket: <0.2Mpa | Material: SS304 or SS316 |
| Evaporating quantity: 30-150kg/h | Heating area: 0.4-1.9m2 |
| Heating Method: Electric, steam | Voltage: 380V |
Characteristics of the Steam Heating Jacket Kettle: 
This Jacket heating kettle can choose a certain pressure steam to be the heating source, or the electric heating . If electric the voltage will be 380V, inside of the jacket kettle we installed the electric heating rods, electric thermocouple and heat transfer oil(self-matching). The temperature max will up to 260 °C. The whole machine is controlled by a electric control box, equipped with automatic temperature control system. The device has the characteristics of large heating area, short boiling time of the liquid, and easy control of the heating temperature.
Structure:
Jacketed/cooking kettle is composed of kettle,bracket,worm wheel and worm etc. The kettle can revolve within 180°, the equipment is used for open concentration, mainly for decocting and concentration of liquid in industries of pharmaceutical industry, food industry, chemical industry and light industry etc. Contact area of the equipment with materials is made of stainless steel SUS304,which has perfect corrosion-proof performance,and is highly endurable according to GMP requirements.Blender also can be added according to customer requirements.
Application: 
Stainless steel Jacket Kettle also called Steamed Jacket Kettle. It is widely used in food processing such as candy, pharmaceutical, dairy wine, pastry, beverage, candied fruit, canned food, etc. It can also be used for a large restaurant or cafeteria cook soup, stew, porridge, etc. This is a good equipment for food processing to improve quality, shorten time and improve working conditions.
Note: 
The MOC, capacity, volume, working pressure of the jacket, motor power, heating power, agitator types can be customized based on customers' processing requirements. Welcome send email to sales@abfindia.co.in for more details.