V Blender manufacturers:
V Cone Blenders designed and manufactured to perform gentle and extremely vigorous mixing and blending of powder materials in pharmaceutical, chemical and cosmetic industries. Also known as V shape Mixer, V Cone Blender is a machine equipped with two inclined cylinders (vessels or barrels) fixed together at an angle 70°C to 90°C to form a conical "V" shape. In the shell when rotates, materials are divided and then mixed together. It is the most common type of tumbling blenders that offers short blending times and efficient blending.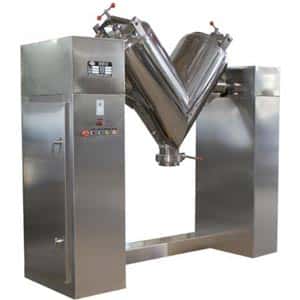 V blender fill volume
In order to achieve good mixing performance from a V Blender machine, it is advised to keep filling level up to 50% – 60% of total volume allowing particles to move in a set pattern. Keeping fill level under this percentage provides free space within cylinder during blending process and allows particles to follow a smooth passage, which ultimately minimizes time taken for homogeneous blending.
V Blender with Intensifier Bar
For mixing of minor ingredients or very fine granules that may form agglomerates while blending, an intensifier bar (beater or pin type) is optionally fitted to the machine. An intensifier bar has spray pipes for liquid addition. This intensifier bar also makes V Blender capable of: dry as well as wet mixing, mixing of fine as well as coarse particle compositions and mixing of cohesive powders.
V Blender Sampling Locations
Sample Set
Symbol
Location
1
A
Left – Left – Top
2
B
C
D
Left – Left – Middle
Left – Left – Bottom
Discharge Port
3
E
F
G
Left – Center – Middle
Center – Center – Center
Right – Right – Bottom
4
H
I
Right – Right – Top
Right – Right – Middle
5
J
Right – Right – Top
abster Equipment is a leading V Blender manufacturer in India and offers V Blending machines in different sizes, capacities and choices of optional accessories. We sell these machines at factory price all over India and overseas. Our engineering team carefully designs a V Blender for both laboratory use and pharmaceutical production use. Each unit features clean design and adds value to product efficiency.
We have standard models with 50 liters to 2000 liters volumes. We can also custom engineer a V Blender to meet specific requirements of our clients. Each machine is manufactured to cGMP and FDA guidelines; therefore, perfect for pharmaceutical production use. Exterior and interior is made of high grade stainless steel.
If you want V Blender in any particular shape, please discuss with our engineering team, we have experience and engineering capabilities to design the exact machine that meets or exceed your unique application requirements.
Features:
| | |
| --- | --- |
| 15 to 2000 kg working capacity | Single or double plinth design |
| Meet cGMP design requirements | High grade stainless steel construction |
| Safety reeling with limit switch | Long life rugged construction |
| Manual rotating facility | Overload protection and emergency stop |
| Fully enclosed and dust tight drives | Easy loading and unloading of materials |
Specifications:
Model
Total volume
(Liters)
Material Capacity
(Liters)
Working Capacity
(KG)
RPM
ABFVB-50
50
25
15
25
ABFVB-150
150
75
45
20
ABFVB-300
300
150
90
20
ABFVB-500
500
250
150
18
ABFVB-1000
1000
500
300
15
ABFVB-1500
1500
750
450
12
ABFVB-2000
2000
1000
600
12
MOC
Contact Parts – SS 316 / 316L
Non-contact Parts – SS 304
Optional
– Pin Intensifier Bar
– Beater Bar
– Drum Loading System
– Vacuum transfer system
– PLC control with HMI
– Side platform
– Ladder
– IQ, OQ and DQ documentations