1mt Batch Sigma Mixer
Product Description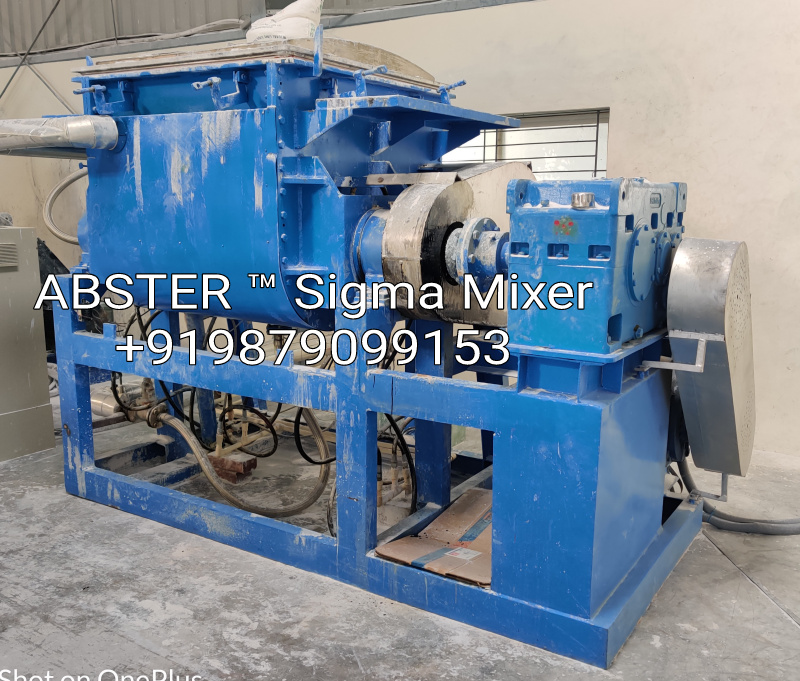 Batch Sigma Mixer with Extruder/mixer with heater Information
Batch Sigma Mixer Mixer with Extruder/mixer with heater is a horizontal mixing machine with two Sigma, or Z-type blades. These blades are driven by separate gears at different speeds, one running faster than the other. The kneader has one powerful motor and a speed reducer to drive the two blades. The kneader reactor usually has a W-type barrel with a hydraulic tilt that turns it, and a heating jacket outside.
Our Batch Sigma Mixer machine is one ideal equipment for kneading, mixing, crushing, dispersing and re-polymerizing high viscosity materials or elastic-plastic materials such as rubber, silicone rubber, adhesive, resin, high viscosity sealant, glass glue, chewing gum, bubble gum, dough, toffee, Plasticine, toothpaste, paints, dyes, pigments, printing ink, hot melt adhesive sealant, Plastics, pharmaceuticals, paper pulp, carbon fiber, cosmetics, battery, food stuff, etc.
Batch Sigma Mixer Configuration:
1. Batch Sigma Mixer Volume: 5L-5000L
2. Material: Stainless steel 304 / 316L, Carbon Steel
3. Condition: New condition, 100% manufactured by Abster™ Equipment
4. Stirring paddle: Sigma / Z-shape blades
5. Speed control: inverter to control the paddle rotating speed as request
6. Optional type: Normal kneader / Vacuum kneader / Pressure kneader
7. Optional heating method: Electric heating method / Steam heating method, The water cooling system can be chosen 
8. Optional discharging way: Hydraulic turning cylinder pumping type / Ball valve discharging type / Screw extrusion type / Manual dumping type
Advantages:
1. Adopt Stainless steel 304/316L, carbon steel materials, High temperature and corrosion resistance;
2. Excellent mixing and kneading performance during wet, pasty and viscous phases;
3. Large working volume kneaders efficiently handling large product volumes;
4. Various volumes widely applied in large scale production and small scale lab project research;
5. Closed design for cleaner production environment;  
6. Smooth operation, easy installation and maintenance;  
7. PLC system for easy operation.
| | | | | | | | | | |
| --- | --- | --- | --- | --- | --- | --- | --- | --- | --- |
| Normal Kneader Technical Parameters | | | | | | | | | |
| | | | | | | | | | |
| | | | | | | | | | |
| | | | | | | | | | |
| | | | | | | | | | |
| | | | | Hydraulic discharge | Hydraulic discharge, Screw extrusion,Ball valve discharg | | | | |
| | | | | | | | | | |
| Electeric Heating Power(KW) | | | | | | | | | |
| | | | | | | | | | |
| | | | | | | | | | |
| | | | | | | | | | |
| | | | | | | | | | |
| | | | | | | | | | |
| Only for reference, we could customize specific types(Volume, Stirring rate,etc.) according to customer's requirements. | | | | | | | | | |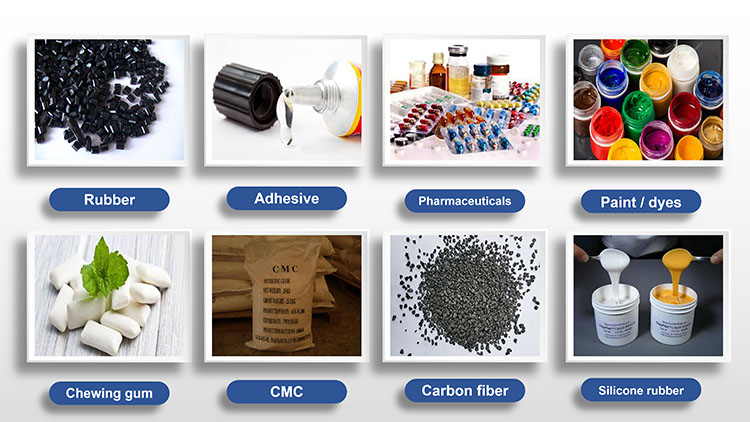 Our kneader machine is one ideal equipment for kneading、mixing、crushing、dispersing and re-polymerizing high viscosity materials or elastic-plastic materials. such as rubber, silicone rubber, adhesive, resin, high viscosity sealant, glass glue, chewing gum, bubble gum, dough, toffee, Plasticine, toothpaste, paints, dyes, pigments, printing ink, hot melt adhesive sealant, Plastics, pharmaceuticals, paper pulp, carbon fiber, cosmetics, battery, food stuff, etc