Rapid Mixer Granulator – RMG Machine, rapid mixer granulator, High Shear Mixers for Granulation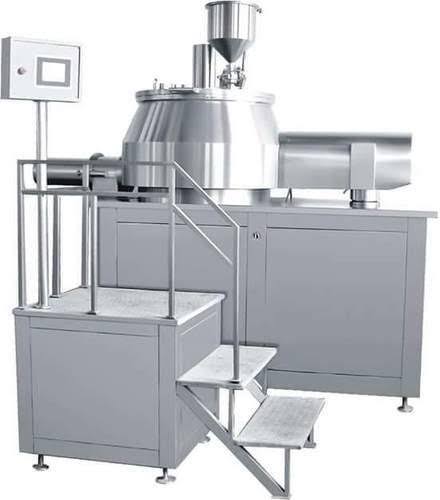 Rapid mixer granulator Description
In pharmaceutical industry rapid mixer granulator plays vital role to mix the ingredients and make granules before compression. For wet granulation, choppers and impellers are mainly responsible in rapid granulator. This RMG machine is also known in Industries with various key terms as High shear granulation machine, Dry Powder granulator, Wet Granulator, Pharma Saizoner, High shear mixer granulator, high-shear granulator, High Shear Mixer Granulators, Granulator, Wet Mixing, Rapid Mixer Granulator Machine, Granulation Machine, Rapid Mixer Granulator.
Impellers: At the bottom of the dome shaped stainless steel bowl Impellers are fixed with two half-length blades and two full length blades. Our skilled professionals have designed the impeller in such a way that full length blades push the material and half-length blade lift the material. This impeller helps you to break the wet mass into small pieces and granules.
Chopper: Chopper has very sharp small blades which are specially designed to cut the wet lumps of material into very small parts which are then mixed by impellers. It is located at bottom of the dome and the size of the granules is totally depends on the speed of the chopper.
Discharge Port: Discharge port is used to unload the container filled with granules. It is located at the bottom of the dome. Opening of discharge port is operated by pneumatic cylinder, a compressed air regulated cylinder.
Mounting : A hard M.S. channel has been used to keep the drive assembly at the bottom. Stainless steel staircase and railings are provided for the platform with a bowl mounted on the top. Half of the platform has been covered by S.S. and dimpled Plates.
The entire body is covered from the sides by suitable S.S. covers.
Note:For RMG 25, Which is a lab model working platform, staircase and railing is not provided. The operator can ascess the machine from the ground level of the machine. Also the entire mounting is covered with S.S
Control Panel : The control panel is mounted on platform and is provided with
Actuators for ON / OFF , slow , fast operation.
Auto / manual controls.
Timer.
Indicator Lights.
Ammeter / voltmeter for both motors.
Controls for discharge opening / closig.
Air regulator & Pressure guage & air filter.
*Optionally a PLC based control Panel can be Provided.
Main Panel : Main panel consists of all prewired connections and it has only to be connected to the electrical supply. The circuits consist of MCCB and the relay. Wires coming our of the connections are numbered for easy recognition.
Technical Specification of Rapid Mixer Granulator
| Gross Cap Ltrs | Work Cap Ltrs | Main Motor 750 / 1500 | Gear Box | Chopper Motor 1500 / 2880 | Discharge Ht | Space Required L x b x h mm |
| --- | --- | --- | --- | --- | --- | --- |
| 25 | 20 | 3 / 5 | 4′ | 1.5 / 2 | 600 | 650 X 1200 X 1100 (1250) |
| 100 | 80 | 7.5 / 15 | 5" | 2 / 3 | 780 | 1500 X 2200 X 1800 (2175) |
| 150 | 120 | 7.5 / 15 | 5" | 3 / 5 | 780 | 1800 X 2500 X 1875 (2300) |
| 250 | 200 | 25 / 30 | 7" | 3 / 5 | 1055 | 2000 X 2800 X 1920 (2450) |
| 400 | 320 | 30 / 40 | 8′ | 5 / 7.5 | 1200 | 2500 X 3000 X 2300 (3000) |
| 600 | 480 | 40 / 50 | 10′ | 5 / 7.5 | 1200 | 2700 X 3200 X 2300 (3000) |
| 1000 | 600 | 63 / 85 | 12′ | 10 / 15 | 1200 | 2900 X 2900 X 2500 (3200) |