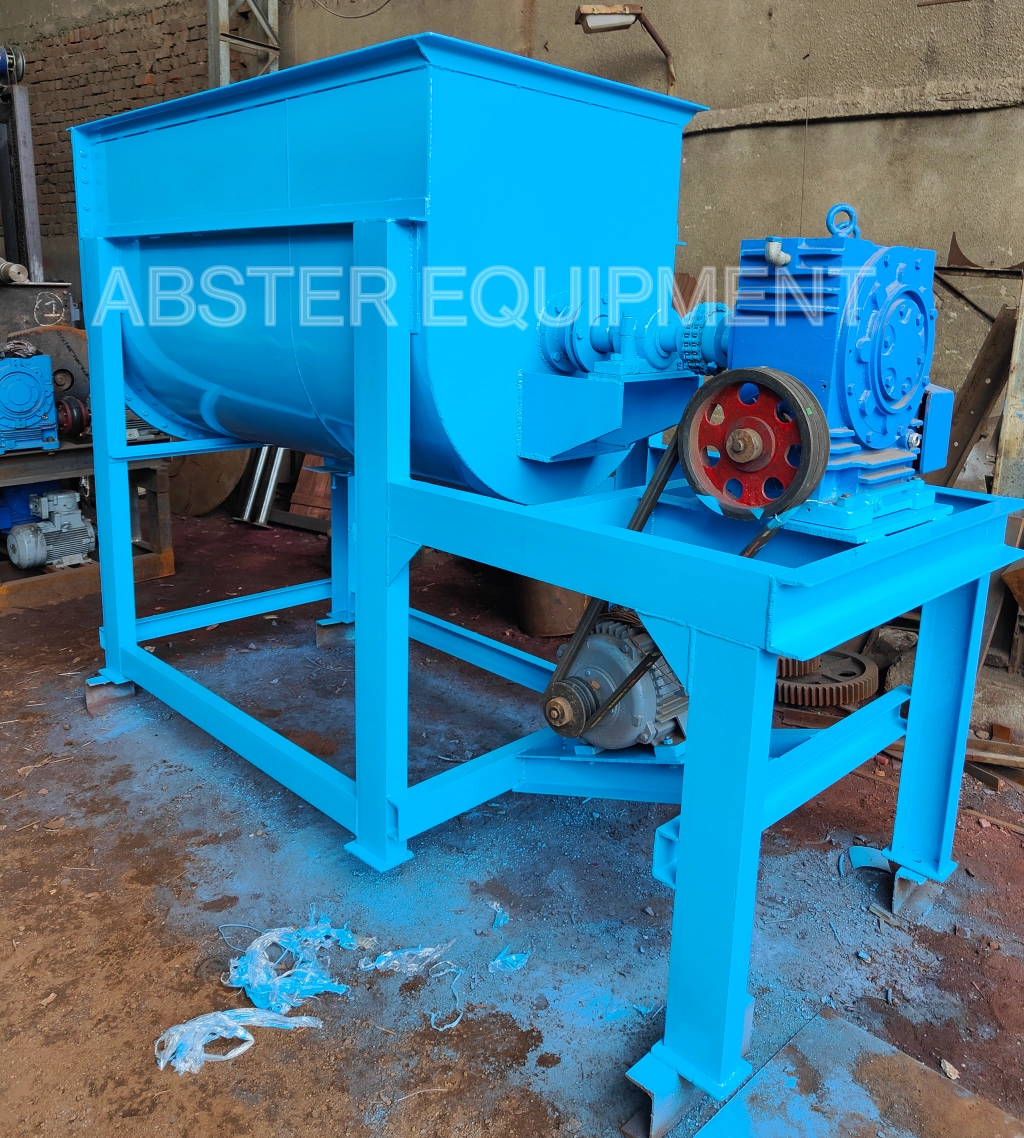 Ribbon Blender Machine commonly known as horizontal ribbon mixer machine perform mixing through ribbon blades. The name of equipment ribbon blender derived from its ribbon shaped blades uses for mixing process. Machine having U shaped bowls in which ribbon shaped blades welded onto one pipe shaft. This pipe shaft rotated through external motor and gearbox. Suitable size bearing and pedestal block provided for smooth rotation of shaft. Mixing time in the blender ranging from few minute to hour depending material type and characteristics. Ribbon blender can be fabricated in mild steel, stainless steel 304, stainless steel 316, titanium and other metals as per individual process requirements. Ribbon mixers are available in different capacities ranging from just one liters to several cubic meters.
Features of Ribbon Blender
Single speed drive.
Available for various working capacities between 5 to 25000 liters.
Advanced flush bottom discharge valve located in the centre.
Worm reduction gearbox.
Suited for atmospheric operation .
Stainless steel surfaces polished with utmost finesse. Exterior walls are painted with top-notch enamel paint.
Three phase induction motors ideal for 415 volts and 50 Hz.
Adequate discharge clearance owing to the blender mounted on supports.
Shaft sealing options available as per your specific requirements. Gland packing and double mechanical seal can be made available too.
Many other features.
Working Principle Ribbon Mixer Machine
Ribbon blender demonstrate true performance equipment when talk about chemical processing. At the same time machine is simple to use than even non skilled worker can operate it very easily. Blender work on two major principles – convective mixing and diffusion. Convective mixing can be understood as macro movement of large sized solids. The other type of mixing, diffusion mixing takes place when individual particles in front of the ribbon move in a particular direction and the nearby particles do not move at all or lag behind.
Material is fed from the top cover of the machine. Manual loading can be perform or we can offer optionally auto feeder for loading materials inside the bowl. As material process in both directions, there is homogeneous mixing performs in each time. After mixing process material get discharges from slide gate valve provided at bottom shell of the equipment.
The horizontal mixing vessel of the rubber blender is fed with the material from top by using the feeding devices provided and mounted near the cover. Since the horizontal ribbon blender causes material movements in different directions, you can expect astonishingly perfect homogeneous mixing. There are one or more discharge valves provided for material discharge.
Applications of Ribbon Blender Mixer
Ribbon Blender can be use for wide array of application span over pharmaceuticals, cosmetics, bulk ingredients, food preservatives, specialty chemical, beverages and lot more. Below are some of the major applications of the equipment:
Pharmaceuticals Application: Bulk Drugs, API and Nutraceuticals
Cosmetics Application: Talcum Powder, Eye shadow, Face powders, Laundry detergents
Chemicals Application: Dyes, Intermediates, Pigments, Pesticides, Fine Chemicals, Rubber Chemicals, Abrasives, Engineered plastic resins, Epoxy resins, Carbon black, Fire retardants, Polyethylene, Chemicals, Gypsum, PVC compounding, Cleaning compounds, Plastic powders
Food Appliactions: Infant formula, Cocoa mix, Instant salad dressing, Cake mixes, Seasonings, Flavorings, Gelatin, Milk Powder, Pet foods, Bakery premixes, Cake mixes, Instant breakfast cereals, Spice blends, Dietary supplements, Instant drink blends, Spices, Dried food products
Agrculture Application: Insecticides, Pesticides, Fertilizers, Pesticides and herbicides, Bird seeds
Other Applications: Handling large Dry and wet powder volume, Crystalline products, Low-viscosity paste and liquid in chemicals
Technical Specification of Ribbon Blender Machine