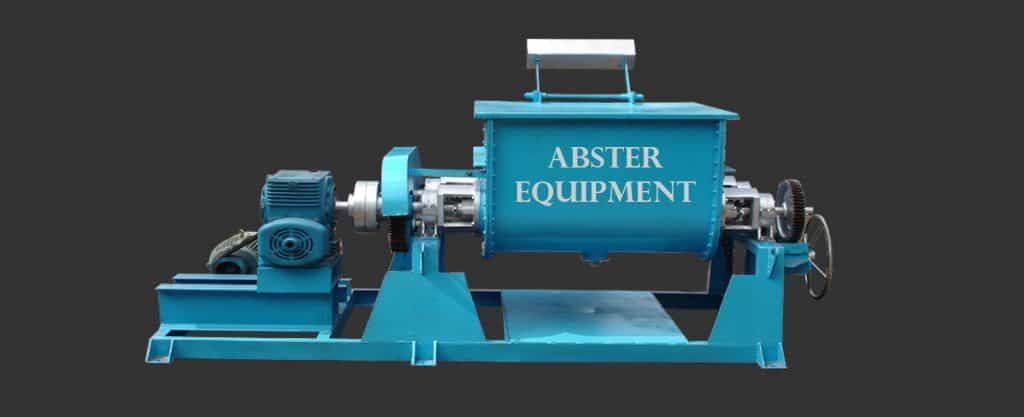 The Kneader Extruder combines the efficiency of a double arm mixer with the convenience of extrusion screws for improved mixing and discharge of heavy viscous materials.
The Kneader Extruder includes a set of contra-rotating kneading blades and one or more extrusion screws. The blades are mounted on a horizontal axis in a W-shaped trough. Below the blades in a separate cavity are the extrusion screws. During the mixing cycle the blades rotate towards each other while the mixing screws rotate in a reverse direction, constantly feeding new materials into the mixing blades. After the mixing/kneading cycle is complete, the screws are reversed and they extrude and transport the mixed materials out of the mix zone.
Standard Features
Available in all grades of Carbon Steel and Stainless Steel.
Optional wear resistant liner plates provided for abrasive products.
Designed for atmospheric operation.
Stainless steel surfaces are polished to desired standards. All exterior non-stainless surfaces are painted with enamel paint.
Squirrel Cage, Three Phase Induction Motors suitable for 415 Volts, 50 Hz.
Worm reduction gearbox, helical reduction gearbox.
Single Speed Drive.
Available in working capacities of 5 Liters to 2500 Liters. Other sizes manufactured on request.
Customised Features
Good Manufacturing Practice (GMP) models.
Explosion-proof motors, Variable Speed Drives along with Electrical Control Panel.
CE
Jacketed construction available for heating and cooling applications.
Different shape blades available to suit specific applications.
Can be offered for vacuum application
Applications
Ideal for mixing, kneading of highly viscous mass, sticky and dough like products.
Mixing of pastes, rubber, and heavy plastic masses.
Applications in Food, Rubber, Pharmaceutical and Chemical industries.
Dry powder to wet phase mixing.
Advantages over conventional tilting bottom discharge kneaders
Low mixing time.
Elimination of the manual scraping of sticky/tacky materials.
Eliminates operator exposure to materials at elevated temperatures or those of a toxic nature, thereby improving plant safety.
Sample Applications Of Sigma Mixer Extruder
Adhesives
Biscuits doughs
rubber
Carbon pastes
Ceramics
Chemicals
Crayon and pencil lead
Inks and pigment products

Explosives
Fiberglass resin doughs
Food and confectionery products
Gaskets and gland packings
Grinding wheel preparations
Hot-melts
Marzipan
Putties

Mastics
Metal powders
preparations
Pencil erasers
Pharmaceuticals
Plastics
Refractories

Sealing compounds
Silicone rubber
Soaps and detergents
Solid propellants
Sugar pastes
Viscous rubber solutions
Chewing gum
Other Mixers
sigma
The two mixing blades rotate towards each other at differential speeds…
Read more
Related Articles
Kneader Mixer Extruder Operation – The kneader mixer extruder consists set of contra-rotating kneading blades, such as the sigma blade or the masticator blade…Read more for Kneader Mixer Extruder
Kneader extruder specifications…Read more