What is a Vacuum Tray Dryer and what are the key benefits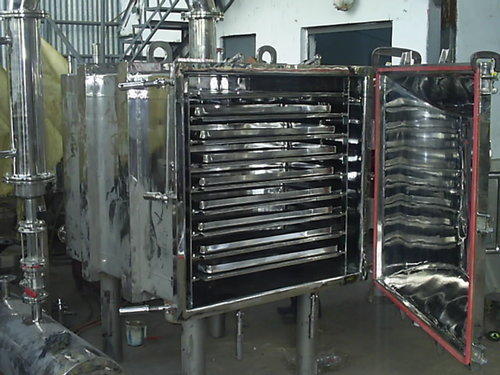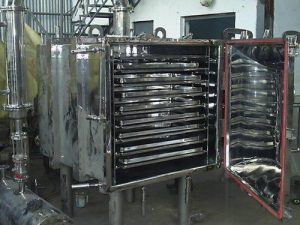 The Abstrer™ Equipment is a major leader in the supply of equipment in the chemical and pharmaceutical industry.
The Abster™ Equipment  design and manufacture Vacuum Tray Dryers (VTD's)  which are easy to use, and consume less power than other traditional types of dryers.
Vacuum tray dryer are mainly used for the drying of high grade, temperature and oxygen sensitive products.
Vacuum tray dryer are also the most commonly used batch dryer in the pharmaceutical industry.
A VTD works under vacuum conditions using the conduction principle.
The design of these VTD's range from laboratory to production scale and can meet sterile process requirements when necessary for the drying of highly toxic or sensitive products.
Standard and bespoke designs can be accomodated which includes where needed, circular and rectangular drying systems along with a vacuum pump system to fulfil the operational requirements.
Products are typically manufactured from stainless steel however where required, the contact and vapour parts can be finished with high corrosion resistant materials including Alloy C276 (Hastelloy).
Heating temperatures are normally in the range of 750 Deg C and 1105 Deg C, and depending on the application plus surface area, drying can take up to 2 days, but is normally dry in a few hours.
On completion of the drying, the product can be cooled by the circulating of cooling water through the heating plates.
Main design features-
Modular Design with high attention to operator health, safety and access.
Rounded edges and corners throughout the design
Sturdy welded external chamber reinforcement ensures maximum operating protection and dependability under full vacuum operation
Hollow pad type baffled heating shelfs
All shelf to manifold connectors are located outside the dryer chamber
Validation ports and nitrogen purge nozzles
Fluid heating and circulating systems either steam or electrically heated
Vapour condensation unit along with a receiver
Vacuum pump system provided to match customer requirements.
Circular and rectangular drying systems ideal for small to moderate levels of production
cGMP construction for pharmaceutical models.
Typical applications:-
API & Bulk Drugs
Laboratories and research centers
Food industry
Main benefits
Low power consumption
Baffled shelf provide effective heat transfer
Vapour condensation unit and receiver aids solvent recovery
Rounded edge and corners provide easy and efficient cleaning
Very efficient and heat sensitive
Drying action becomes faster as heat is easily transferred throughout the body of the dryers, due to its large surface area
Dries large moisture as compared to normal dryers
The quality of the dried material is better than that of the normal dryers
Vacuum Tray dryer – VTD
No. Of Trays
3
6
12
24
36
48
96
Capacity in Kg
3-5
12-18
25-35
50-75
75-100
100-150
200-300
Tray volume in Ltrs /Capacity in Kg
5/1-1.5
10 /2-3
10/2-3
10/2-3
10/2-3
10/2-3
10/2-3
Tray size : L W H in mm
406x406x31
812x406x31
812x406x31
812x406x31
812x406x31
812x406x31
812x406x31
No. of Heating Shelf
4
7
7
9
13
17
17
Shelf size in mm
430×430
430 X835
835×835
835×1259
835×1250
835×1250
1250×1650
Distance between shelves in mm
100
100
100
100
100
100
100
Trays on each self
1
1
2
3
3
3
6
Condenser
0.2m2
0.5 m2
0.75m2
1m2
1.5m2
2m2
3m2
Receiver
10Ltrs
25 Ltrs
50 Ltrs
75 Ltrs
100 Ltrs
150 Ltrs
250 Ltrs
H.W. Distribution Pipes
1½"
1½"
1½"
1½"
1½"
1½"
2"
Door Gasket (Silicon)
16mmSQ
16mmSQ
16mmSQ
16mmSQ
16mmSQ
16mmSQ
16mmSQ
No. of Door Bolts (Φ40)
4
6
8
10
12
12
14
Design Temperature : 1500C, TESTING : The vacuum dryer shelves are
hydro-tested 5 Kg/Cm2 in Assembled condition. The vacuum chamber is tested for full vacuum.